To celebrate the upcoming 50k downloads milestone, a completely new version of Shingo soccer referee is under development and will soon be released.
This new version is much more powerful than the actual one and will allow users to interact with a brand new website where publish and share teams, matches, referees and much more.
Some of the new features:
Multiple team editor with players and coaches
Players editor
Referees and coaches editor
Advanced publishing features for teams, players, coaches, referees and matches as well
New website linked to the app
Support for substitutions, free notes and more during match
New interface
Reduced  in-app  advertising
Buf fixing and more,,,,
Here's a screenshot of the prototype's main screen (the UI may be subject to changes before release) :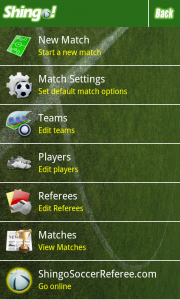 Shingo Soccer referee 2.0 will be released soon, please stay tuned
Peace.